Grade Levels
Languages
Nations
Tags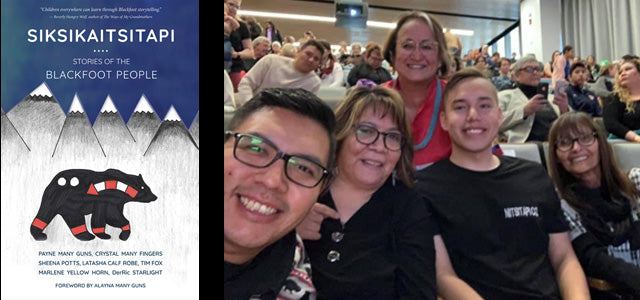 Seven Blackfoot Authors
---
Payne Many Guns
My name is Payne Many Guns. My traditional name is Iikootsomin which means "Red Wing." It is my great-great-grandfather's name that I am honoured to have. I am a member of the Siksika Nation which is part of the Blackfoot Confederacy. I come from a long line of chiefs and signatories of Treaty 7. I am also the founder and owner of Niitsitapi Co. which is an Indigenous clothing brand. I am very passionate about my language and culture because of the knowledge, pride, strength, and resiliency it gives me.
Crystal Many Fingers
Crystal is a Blackfoot member of the Kainai First Nation of Treaty 7. She grew up on the Blood Reserve and as a child roamed the halls of the University of Lethbridge where her mother, Dr. Helen Manyfingers, was studying to earn her Bachelor of Education degree. She has to completed her Master of Education degree with a specialty in Adult and Workplace Environmental Learning. She now works as the Indigenous Consultant to Curriculum at Bow Valley College in Calgary, Alberta.
Sheena Potts
Mai'stoistowaakii (Crow Pretty Woman)
Niitsi Piikaniaakii | I am a Piikani lady/woman.
Nitsikohtatsiika'si nokosiksi kii nisotana | I am a proud mother and grandmother.
Niitsikoyikitomai'takapinaan Siksitaitapisini | We practise the ways of Siksikasitapi.
Niitsininamsskaapinaan | We belong to the Thunder Pipe Society.
Iyipposstoyiitsi nitaanist ksinima'tstohoki'p | I have been an educator for thirty years.
Latasha Calf Robe
Matoomiikamoosaaki (First Steals Woman)
Oki, niisto annista Matoomiikamoosaaki. Ninna anni-sta Onistaahsiinaam. Niiksissta annista Sahksiisinaki.
Naahsaa annista Naapiiaakii, Jija Ts'ika, Pîmōpakihō, Steven Calf Robe.
First Steals Woman (Latasha Calf Robe) is from the Kainaiwa First Nation, otherwise known as the Blood Tribe. She is a mother of three beautiful Blackfoot children whom she raises with her partner, Adam Solway. With the support and teachings from her family, Latasha is thrilled to share Niitsippooktsistaanitsi with you.
Tim Fox
Tim Fox is a proud member of the Kainai, Blood Tribe, within Siksikaitsitapi, Blackfoot Confederacy. His family comes from the Ahkaipohkaaks (Many Children's) Clan. His parents are Mike and Connie Fox (Mills) and late Grandparents, Emma (George) Many Feathers, Stephen Fox Sr., Virginia Mills and Jim Chief Calf. Tim currently lives and works in Mohkinstis (Calgary). He is the Vice President of Indigenous Relations for the Calgary Foundation. He is blessed and grateful to be helping raise his beautiful daughter, Charm, along with her mom, Dawn Fox (Sanders).
 Iikiinayookaa Marlene Yellow Horn 
Iikiinayookaa Marlene Yellow Horn is a Blackfoot author and educator from the Mamoyiksi Fish Eater Clan of the Kainai First Nation. She is a mother to Saapaata Wacey Rabbit, professional hockey player, has been married for thirty years to I'tsaapoyi Marvin Yellow Horn, and is the only daughter of the late Larry and Patsy Rabbit. Iikiinayookaa received her Master of Education (2010), Bachelor of Education (2005), and Bachelor of Management (1998) from the University of Lethbridge. She is the current Principal at Piitoayis Family School, Calgary Board of Education.
DerRic Starlight
DerRic Starlight is from the Tsuut'ina Nation west of Calgary, Alberta, and can also trace his ancestry to the Blackfoot Confederacy. He is a comedian, puppeteer, screenwriter, and pro-wrestling promoter. DerRic has created his own cast of Native puppet characters and has travelled all over North America since 1997. He has starred in many different television productions with The Aboriginal Peoples Television Network (APTN) and has won the prestigious Gemini Award of Canada as a voice actor. In 2021 DerRic became an official puppeteer with The Jim Henson Company.
Photo - Authors, pictured left to right: Tim Fox, Crystal Many Fingers, Marlene Yellow Horn, Payne Many Guns, Sheena Potts. Absent, Latasha Calf Robe, DerRic Starlight
Seven Blackfoot Authors Collection
1 product
Showing 1 - 1 of 1 product
Grade Levels
Languages
Nations
Filters